---

We prefer to quickly design, develop, and maintain websites and web applications — from start to finish — with Adobe® Dreamweaver® CS6 software. Dreamweaver CS6 offers the choice of working in an intuitive visual layout interface or a streamlined coding environment. Intelligent integration with Adobe® Photoshop® CS6, Adobe® Fireworks® CS6, and Adobe® Flash® CS6 Professional software ensures efficient workflow across our favorite tools.
As an Industry leading tool, it also provides the following features:
Integrated Workflows
Complete CSS Support
Complete Accessibility Support
Integrated Coding Environment
Support for Leading Technologies
Software Extensibility
---

Adobe® Photoshop® CS6 software accelerates our path from imagination to imagery. Ideal for our photographers, graphic designers, and web designers, the professional standard delivers new features such as automatic layer alignment and blending that enable advanced compositing. Live filters boost the comprehensive, nondestructive editing toolset for increased flexibility. And a streamlined interface and new timesaving tools make our work flow faster.
Product features:
Industry-standard editing toolset
Nondestructive editing
Rich painting and drawing toolset
Advanced compositing
Quick Selection and Refine Edge tools
Built-in efficiency
---

Adobe® Flash® CS6 Professional software is the most advanced authoring environment for creating rich, interactive content for digital, web, and mobile platforms. Create interactive websites, rich media advertisements, instructional media, engaging presentations, games, and more. Designers and developers working on both Macintosh and Windows® systems depend on Flash and the ubiquitous Adobe Flash Player software to ensure content reaches the widest possible audience.
Product features:
Adobe Photoshop import
Frame-based timeline
Shape primitives
ActionScript 3.0 development
Sophisticated video tools
MP3 audio support
Rich drawing capabilities
Extensible architecture
---

Still the fastest way to build and deploy powerful Internet applications, the latest version - ColdFusion® 10 - introduces powerful new application services including rich Flash forms generation, structured reports, and dynamic generation of printable documents. It opens up a new world of applications beyond the browser.
ColdFusion® 10 is a feature-packed release introducing powerful new capabilities to ColdFusion's rapid application development environment.
---

Adobe® Flash® Builder™ 4.6 (formerly Adobe® Flex™) software is designed to help software developers rapidly develop cross-platform rich Internet applications (RIAs) and content using the open source Flex framework. It includes support for intelligent coding, debugging, and visual design and features powerful testing tools that speed up development and lead to higher performing applications.
---

Visual Studio 2008/10 provides a range of .NET tools that offer many benefits for our individual developers and software development teams:
Be more productive and obtain faster results
Build dynamic Windows, Web, mobile, and Office-based solutions
Communicate and collaborate more effectively within our software teams
Ensure quality early and often throughout the development process
---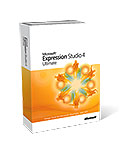 Microsoft® Expression® Studio 4 takes your creative possibilities to a new level. The professional design tools and innovative technologies in Expression Studio give you the flexibility and freedom to bring your vision to reality - whether you are designing standards-based Web sites, rich user experiences on the desktop, or managing digital assets and content. Expression Studio 4 includes the following products:
Expression Web - A professional design tool to create modern, standards-based sites which deliver superior quality on the Web.
Expression Blend - The professional design tool to create engaging, Web-connected, user experiences for Windows.
Expression Design - A professional illustration and graphic design tool that lets you build compelling elements for both Web and desktop application user interfaces.
Expression Media - A professional asset management tool to visually catalog and organize all your digital assets for effortless retrieval and presentation.
---

We can generate .NET Web applications in quickly straight from a database. Quickly create visually stunning, feature-rich Web applications that are easy-to-customize and ready-to-deploy. If you need an .NET app built today, we use Iron Speed Designer.
Data management apps
Reporting & tracking apps
Administrative apps
Departmental apps
Data collection portals
Prototyping & proof-of-concept
---
Camtasia Studio® is a complete solution for recording, editing and publishing rich screen video presentations. With support for a variety of video standards, you can ensure your content delivery now and in the future.
Record Anything
Easily create training, demonstrations, presentations, online courses... the possibilities are endless. Connect with your audience by including screen recordings, audio, voice narration, PowerPoint, Picture-in-Picture and webcam video.
Edit and Enhance
Edit and enhance your video with callouts, titles, credits, zooming, panning, quizzes and additional audio tracks. Camtasia Studio's extensive editing options are at your fingertips.
Share
Publish in Flash, QuickTime and a variety of video formats, then share on the Web, CD or DVD. You can use the Production Wizard to assist you in choosing the best format and settings for sharing with your audience, or you can have complete control over audio and video codecs and quality, frame rate, color depth, and inclusion or exclusion of special effects.
---

Whether you are creating content for delivery on cell phones, broadcast or the Internet, or a software developer looking to take your application to the next level, QuickTime provides the most comprehensive platform in the industry.
Tens of thousands of software titles use QuickTime to deliver media. More than 250 digital devices ship QuickTime with their products as the media player of choice. Thousands of enhanced CDs deliver a multimedia experience beyond music with QuickTime. And more than 25,000 Web sites refer customers to the QuickTime download every day. Every one from auto sites, musicians, the BBC, and the best movie trailer site on the Web uses QuickTime and increases its distribution.
---

Audit your website security with Acunetix Web Vulnerability! Scanner Website security is possibly today's most overlooked aspect of securing the enterprise and should be a priority in any organization. Hackers are concentrating their efforts on web-based applications - shopping carts, forms, login pages, dynamic content, etc. Web applications are accessible 24 hours a day, 7 days a week and control valuable data since they often have direct access to backend data such as customer databases.
Firewalls, SSL and locked-down servers are futile against web application hacking.
Any defense at network security level will provide no protection against web application attacks since they are launched on port 80 - which has to remain open. In addition, web applications are often tailor-made therefore tested less than off-the-shelf software and are more likely to have undiscovered vulnerabilities. Acunetix WVS automatically checks your web applications for SQL Injection, XSS & other web vulnerabilities.
---

Fortune 500 companies and thousands of other organizations around the world use WebPosition to optimize their web pages to attract greater numbers of qualified visitors to their sites
Each day, more than 625 million searches are conducted online. These web searchers are targeted, highly-engaged web site visitors because they are already searching on keywords or phrases in your category. In fact, some studies say that as many as 65% of web shoppers use search engines to find the sites from which they make their online purchases.
WebPosition 4 now delivers complete website search engine visibility metrics making it an even more indispensable tool in your search marketing tool box.
WebPosition 4 allows you to:
Report your search engine rankings
Target your keywords
Optimize pages using built-in expertise Submit URLs to search engines
Analyze conversions using WebTrends Analytics
Benefits of WebPosition 4:
Drive more qualified visitors to your web site.
Improve search engine visibility using straightforward recommendations to optimize site design.
---

Designer and Developer
Rick Heidrick has been involved with the web and custom applications for International clients since 1995. His graphic design and developer experience is also coupled with managing Microsoft network and server farms, hardware testing, and dealing with online security issues. For more information, visit About Us or Request a Quote!
Other Design Software

Used

Xara Webstyle 4 - Web graphics made easier

Xara X - Graphic Design

Sothink DHTMLMenu - Web menus

Sorenson Squeeze - Video compression

eEye Digital Retina - Network Security Scanner

BenVista PhotoZoom Pro - image magnification

Anim-FX - Flash intros

Alien Skin - Image filters for Adobe Photoshop

Genuine Fractals - image magnification

OnOne Mask Pro - Remove image backgrounds
Server-based Software

The Microsoft family of server and application hosting software:
---

COMODO SSL low cost, high assurance, SSL certificates for IIS5 and IIS6:

Merak Mail Server is a comprehensive email solution that includes client WebMail:

PayPal online payment solution. Send and receive money worldwide - used by over 100 million members in 190 countries and supports 16 currencies :
---
Recommended Sites

DMX Zone
Tutorials and Extensions for Adobe Dreamweaver, Flash, and Fireworks.

Google Webmaster Tools
Provides you with a free and easy way to make your site more Google-friendly.
Alexa Web Information
Track traffic to your own site as well as to the top performers to see how your site measures up.